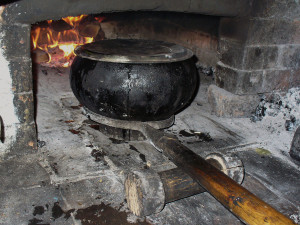 Have you ever wondered how people prepared food and cooked over an open hearth or on a wood stove? Vegetables, soups, meats, puddings, pies, caked, breads, etc., all had to be prepared without any time-saving conveniences.  With no refrigeration, food had to be eaten right away or preserved for later (ice boxes were available in the 1800s, but only to the wealthy).  Nothing was wasted – food was too valuable.
This blog is about how food was prepared in the 1800s to about the 1920s.  I look for old cookbooks at yard sales, thrift shops, used bookstores, and even read cookbooks online that are in the public domain.  The more cookbooks, the better.
The recipes and cooking instructions on this blog are for informational purposes, although many recipes can be adapted for today. Just remember that cooks long ago had no thermometers, so recipes often said to "cook until done." Cooking baked goods like cakes, pies, and breads will be hard to do in a modern oven, but it might be fun to try.
Be aware that some practices of leaving meat to sit out overnight or hanging from a hook won't be following today's food safety standards.
Please leave comments and share any posts you find interesting.
And you can contact me with questions or suggestions. ~~ Angela Johnson
Subscribe by email so you won't miss any of my weekly posts.
Emails are never distributed or sold, and you can unsubscribe at any time.